In recognition of his many achievements on behalf of whooping cranes and their recovery, an HONOR AWARD was presented to MARTIN J. FOLK on the 28th day of March, 2014, at Davenport, Florida.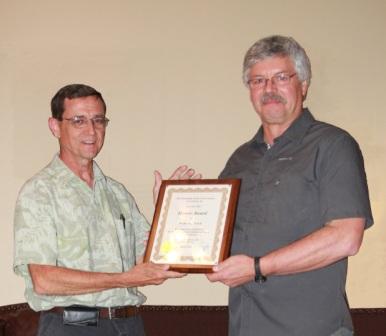 The Award Citation Reads: "As Biological Field Coordinator for the Non-Migratory Whooping Crane Project, Marty Folk has been involved in all aspects of the Florida whooping crane release. He has selected release sites, established release pens, released birds and monitored the cranes after release. Marty has been instrumental in developing new and innovative capture techniques and handling protocols for the birds he has captured. He has also developed the use of videography for remote monitoring of nests to determine nesting behavior and egg and chick mortality factors. Marty is a prolific writer and has contributed numerous papers on the non-migratory whoopers including capture techniques, molt patterns, behavior, disease and mortality. Marty has also shared his knowledge as a member of the Whooping Crane Recovery Team and has contributed to the development of the International Whooping Crane Recovery Plan. Currently Marty is the editor of the Whooping Crane Conservation Association newsletter Grus Americana."
The Whooping Crane Conservation Association was very pleased to present Marty Folk with the HONOR AWARD. The award is given on an infrequent basis to an individual or organization who through exceptional achievement and dedication, has contributed significantly to the conservation and/or collective knowledge of the Whooping Crane. Friends and colleagues wish Marty well in his retirement from the Florida Fish and Wildlife Conservation Commission.