by Renée Francoeur, Reporter, The Northern Journal, Fort Smith, NT, Canada
Almost every evening from May to September, Ronnie Schaefer of Fort Smith can be found in his hip waders slogging through marshes on Salt River First Nation reserve land, just down from Lobstick Creek.
His mission – completely voluntary – is to watch over the tallest birds in North America, the whooping cranes, which nest in the area after a 2,500-mile summer migration from Texas.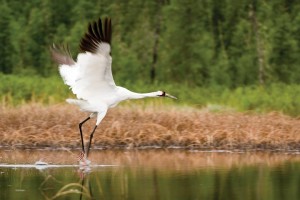 Photo by Photo: Klaus Nigge – An elegant whooping crane swoops across a wetland.
"They're my passion and I want to help protect them. You can't see this anywhere else," said Schaefer, a town bylaw officer and Salt River First Nation councillor.
Canada is home to the world's largest migratory population of whooping cranes. According to Environment Canada, there are almost 300 birds in the Wood Buffalo flock – the only self-sustaining, wild flock on earth.
Whooping cranes were designated as endangered in Canada in the year 2000. It was estimated by the Whooping Crane Conservation Association that only 16 whooping cranes were left on the entire planet in 1941-1942.
"I was probably 14 when I saw my first whooper. I was out hunting birds at Foxholes. When I came to realize these were endangered birds, I just wanted to take care of them," Schaefer said. "I want to share what I know and see with others so we can come together to help preserve their habitat."
Schaefer has named the two young cranes he's been keeping an eye on Snowball and Snowflake, who he thinks are descendents of the original "Lobstick pair," which still nest further down on the Foxholes prairie land.
Canadian Wildlife counts 74 nests in 2013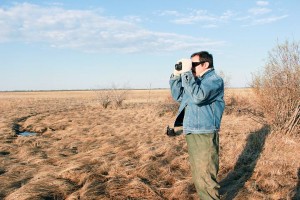 Photo: Renee Francoeur – Ronnie Schaefer of Fort Smith takes a closer peek at Snowball and Snowflake.
Many cranes make their nests in the traditional breeding grounds in the northeastern corner of Wood Buffalo National Park. Their nests are counted every year for a survey by the Canadian Wildlife Service, undertaken in partnership with Environment Canada and Parks Canada.This year, 74 nests were counted, according to Mark Bidwell, a species at risk biologist with Environment Canada. That number is one less than the record set in 2011 at 75.
"Counting the nests gives us an idea of how the birds are doing and it helps us track their movement," he told The Journal. "The number of nests goes up and down from year to year, but over long periods of time, it's continuing to tick upwards. That's a positive."
Bidwell estimates about 150 birds are breeding  out of the 300 in the flock.
As well, Bidwell noted, the population continues to expand outside the park. Eight nests were discovered outside Wood Buffalo's perimeters this year – one more than ever recorded. Additionally, breeding pairs, known to go back to the same nest year after year, are making nests in new locations, never before monitored by surveyists. Four to six new nests were recorded this year.
"What this means is the population is moving increasingly into areas that are not formally protected. It's not a critical situation yet as most birds are still using the park and the ones using areas outside the park, those locations are still quite remote. In Texas, however, where they spend the winter, it's different and they are coming into more contact with people and development."
More possibilities of human interaction with the cranes also worries Schaefer.
"Almost every long weekend there are people out quadding in this nesting area at Foxholes," he said. "On the May long weekend, a big group was headed right for the nest and if I hadn't been here to stop them, they'd most likely have run right over it…There's this perception, you can go quad anywhere. You can't. This is a restricted area. I put big 'Whooper Warning' signs up to keep people away from them, but it doesn't seem to be working."
Sonia Trudeau, who went out with Schaefer to see the cranes last month, said she cried when she saw the eggs.
"That is something no one gets to ever see. It's so special. I've lived here in Smith all my life and never seen that," she said. "More people need to be aware of where the nests are. We need to protect them and their habitat or they won't be here one day."
The Canadian Wildlife Service will return to the Fort Smith area in August to do a follow up survey on the nesting success and chick productivity.
"Typically, 40 to 50 per cent of the nests we found in May will have chicks survive. That's not as bad as it sounds for a big-bodied bird who can live up to 20 years," Bidwell said. "While most pairs lay two eggs, usually only one chick survives. Sometimes there are both, though, depending on the year and resources."
Meanwhile, Schaefer said he plans to keep a close eye on Snowflake and Snowball's rusty-brown coloured chick, who just hatched last week.
"They know me. I can read them. I know when to back off when they're in protective mode. I think they know I'm looking out for them," he said.